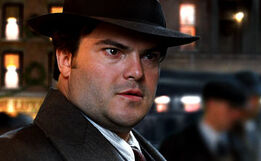 Carl Denham is a fictional character in the films King Kong and Son of Kong (both released in 1933), as well as in the 2005 remake of King Kong, and a 2004 illustrated-novel titled Kong: King of Skull Island. The role was played by Robert Armstrong in the 1933 films and by Jack Black in the 2005 remake. Denham's function in the story is to initiate the action by bringing the characters to Skull Island, where they encounter the giant beast Kong. Denham then brings Kong to New York City to put him on display as entertainment, but he escapes and rampages through the city.
Ad blocker interference detected!
Wikia is a free-to-use site that makes money from advertising. We have a modified experience for viewers using ad blockers

Wikia is not accessible if you've made further modifications. Remove the custom ad blocker rule(s) and the page will load as expected.