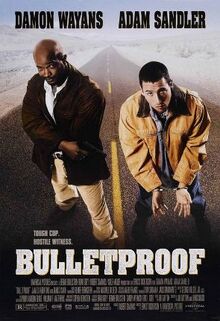 Bulletproof is a 1996 American action comedy film directed by Ernest Dickerson. The film stars Damon Wayans and Adam Sandler. This was Adam Sandler's last Universal Pictures film until 2007's I Now Pronounce You Chuck and Larry. The film was a critical and financial failure, with Rotten Tomatoes giving the film a score of 8% based on reviews from 39 critics.
Ad blocker interference detected!
Wikia is a free-to-use site that makes money from advertising. We have a modified experience for viewers using ad blockers

Wikia is not accessible if you've made further modifications. Remove the custom ad blocker rule(s) and the page will load as expected.