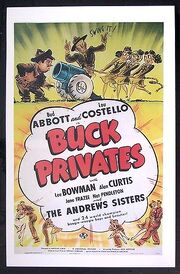 Buck Privates is the 1941 comedy/World War II film that turned Bud Abbott and Lou Costello into bona fide movie stars. It was the first service comedy based on the peacetime draft of 1940. The comedy team made two more service comedies before the United States entered the war (In the Navy and Keep 'Em Flying). A sequel to this movie, Buck Privates Come Home, was released in 1947. Buck Privates is one of three Abbott and Costello films featuring The Andrews Sisters, who were also under contract to Universal Pictures at the time.

Abbott and Costello performed a radio version of the film on the Lux Radio Theater on October 13, 1941.
Ad blocker interference detected!
Wikia is a free-to-use site that makes money from advertising. We have a modified experience for viewers using ad blockers

Wikia is not accessible if you've made further modifications. Remove the custom ad blocker rule(s) and the page will load as expected.