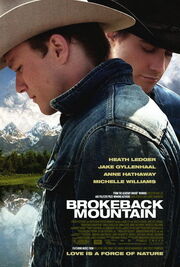 Brokeback Mountain is a 2005 American epic romantic drama film directed by Ang Lee. It is a film adaptation of the 1997 short story of the same name by Annie Proulx; the screenplay was written by Diana Ossana and Larry McMurtry. The film stars Heath Ledger, Jake Gyllenhaal, Anne Hathaway, Michelle Williams, and Randy Quaid, and depicts the complex romantic and sexual relationship between two men in the American West from 1963 to 1983.[1]

Brokeback Mountain won the Golden Lion at the Venice Film Festival and was honored with Best Picture and Best Director accolades from the British Academy Film Awards, Golden Globe Awards, Producers Guild of America Awards, Critics' Choice Movie Awards, and Independent Spirit Awards among many other organizations and festivals.

Brokeback Mountain was nominated for eight Academy Awards, the most nominations at the 78th Academy Awards, where it won three: Best Director, Best Adapted Screenplay, and Best Original Score.   
Cite error: <ref> tags exist, but no <references/> tag was found
Ad blocker interference detected!
Wikia is a free-to-use site that makes money from advertising. We have a modified experience for viewers using ad blockers

Wikia is not accessible if you've made further modifications. Remove the custom ad blocker rule(s) and the page will load as expected.