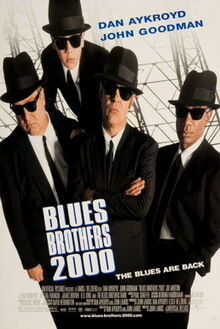 Blues Brothers 2000 is a 1998 American comedy film that is a sequel to 1980's The Blues Brothers, written and produced by John Landis and Dan Aykroyd. Directed by Landis, the film stars Aykroyd and John Goodman, with cameos by many musicians.
Ad blocker interference detected!
Wikia is a free-to-use site that makes money from advertising. We have a modified experience for viewers using ad blockers

Wikia is not accessible if you've made further modifications. Remove the custom ad blocker rule(s) and the page will load as expected.