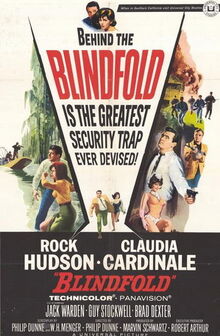 Blindfold is a 1966 American motion picture by Universal Pictures, starring Rock Hudson and Claudia Cardinale that was based on Lucille Fletcher's 1960 novel of the same name. It was the last film directed by Philip Dunne, a successful Hollywood screenwriter of pictures such as How Green Was My Valley and The Robe. Sequences were filmed in Silver Springs, Florida.
Ad blocker interference detected!
Wikia is a free-to-use site that makes money from advertising. We have a modified experience for viewers using ad blockers

Wikia is not accessible if you've made further modifications. Remove the custom ad blocker rule(s) and the page will load as expected.