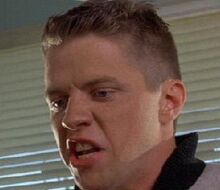 Biff Howard Tannen is a fictional character in the Back to the Future trilogy. Thomas F. Wilson plays Biff in all three films as well as the Universal Studios ride, and voiced the character in the animated series.
Biff is a large, rude, arrogant and violent bully who obtains what he wants by intimidating others into doing his work for him, or by cheating. He and his family members have a tendency to misuse idioms in a way that makes them appear foolish and comical despite their intention to insult or intimidate, and all share a disdain for manure. His favorite insult is "butthead".
Family
Ad blocker interference detected!
Wikia is a free-to-use site that makes money from advertising. We have a modified experience for viewers using ad blockers

Wikia is not accessible if you've made further modifications. Remove the custom ad blocker rule(s) and the page will load as expected.