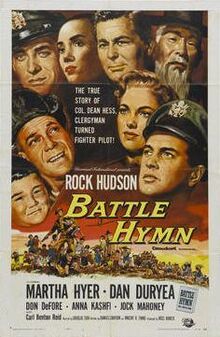 Battle Hymn (aka By Faith I Fly) (1957) is a Universal-International feature film starring Rock Hudson as Colonel Dean E. Hess, a real-life United States Air Force fighter pilot in the Korean War. Hess's autobiography of the same name was published concurrently with the release of the film. He donated his profits from the film and the book to a network of orphanages he helped to establish. The film was directed by Douglas Sirk and produced by Ross Hunter.
Ad blocker interference detected!
Wikia is a free-to-use site that makes money from advertising. We have a modified experience for viewers using ad blockers

Wikia is not accessible if you've made further modifications. Remove the custom ad blocker rule(s) and the page will load as expected.