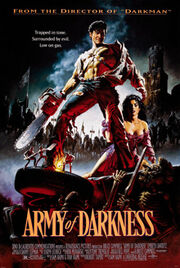 Army of Darkness (also known as Evil Dead 3: Army of Darkness and stylized onscreen as Bruce Campbell vs. Army of Darkness) is a 1992 American comedy-dark fantasy film directed by Sam Raimi. It is the third installment of The Evil Dead franchise. The film was written by Sam Raimi and his brother Ivan, produced by Robert Tapert, and stars Bruce Campbell (also acting as co-producer) and Embeth Davidtz. Continuing from Evil Dead II, Ash Williams (Campbell) is trapped in the Middle Ages and battles the undead in his quest to return to the present.

The film was produced as part of a production deal with Universal Studios after the financial success of Darkman. Filming took place in California in 1991. Army of Darkness premiered on October 9, 1992 at the Sitges Film Festival, and was released in the United States on February 19, 1993. It grossed $11.503 million domestically and another $10 million outside the USA for a total worldwide gross of $21.5 million. Critical response was positive. Since its video release it has acquired a massive cult following, along with the other two films in the trilogy. The film was dedicated to Irvin Shapiro, who died during the film's production in 1989 on New Year's Day.
Ad blocker interference detected!
Wikia is a free-to-use site that makes money from advertising. We have a modified experience for viewers using ad blockers

Wikia is not accessible if you've made further modifications. Remove the custom ad blocker rule(s) and the page will load as expected.