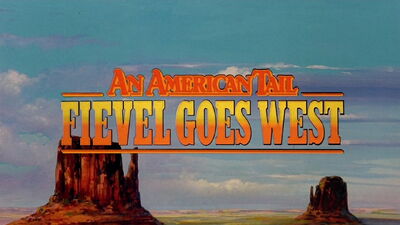 An American Tail: Fievel Goes West (also known as An American Tail 2) is a 1991 American animated western film produced by Steven Spielberg's Amblimation animation studio and released by Universal Pictures. It is the sequel to An American Tail, and the last installment in the series to be released theatrically, also the fourth installment in terms of the series' fictional chronology. It was followed at the end of the 1990s by two direct-to-video followups, both of which took place chronologically before this film. A continuation of this installment, Fievel's American Tails, aired on CBS in 1992.
Don Bluth, the original film's director, had no involvement with this film. Instead, it was directed by Phil Nibbelink and Simon Wells. Wells went on to do We're Back! A Dinosaur's Story, Balto, and The Time Machine, while Nibbelink went on to co-direct We're Back! A Dinosaur's Story and direct his own independent features.
The film follows the story of a family of Jewish-Russian mice who emigrate to the Wild West. In the film, Fievel Mousekewitz is separated from his family (again) as the train approaches the American Old West; the film chronicles Fievel and Sheriff Wylie Burp (voiced by James Stewart in his final film) teaching Tiger how to act like a dog. The film performed modestly at the box office grossing $40 million and received mixed reviews from critics.
Gallery
Trivia