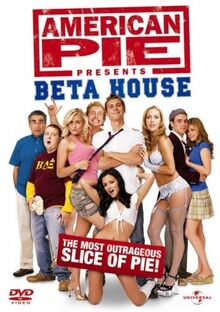 American Pie Presents: Beta House is a 2007 American teen comedy film released by Universal Pictures. It is the third installment in the American Pie Presents series and sixth installment in the American Pie franchise overall. The film concludes a story arc that begins with The Naked Mile (2006). John White stars as Erik Stifler, a college freshman who pledges the Beta House fraternity led by his cousin Dwight Stifler (Steve Talley). Christopher McDonald co-stars as Erik's father and Eugene Levy plays Beta House alumnus Noah Levenstein.
Universal commissioned the film after positive commercial reaction to The Naked Mile. Erik Lindsay and W.K. Border, the writer and producer, respectively, as well as four of the five principal cast members from the preceding film returned. Principal photography took place for seven to eight weeks from June 4, 2007 in Toronto, Canada.
American Pie Presents: Beta House was released direct-to-DVD internationally on December 10, 2007 and in the United States on December 26, 2007. The film was a moderate financial success, generating US$18.55 million in United States sales. It received generally negative reviews from film critics.