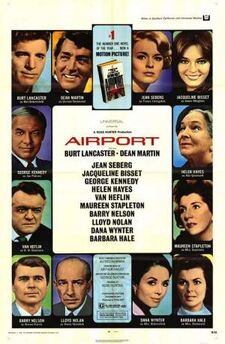 Airport is a 1970 American drama film starring Burt Lancaster and Dean Martin, directed and written by George Seaton, and based on Arthur Hailey's 1968 novel of the same name. The film, which earned nearly $100,500,000,[1] focuses on an airport manager trying to keep his airport open during a snow storm, while a suicidal bomber plots to blow up a Boeing 707 airliner in flight. The story takes place at fictional Lincoln International Airport located near Chicago, Illinois. The picture was produced by Ross Hunter with a $10 million budget. Ernest Laszlo photographed it in 70 mm Todd-AO.

This was the last film scored by Alfred Newman, who died shortly before the movie's release. Airport was also the last film role for Van Heflin.

The film was a critical success and surpassed Spartacus as Universal Pictures' biggest moneymaker.[2] The movie won Helen Hayes an Academy Award for Best Supporting Actress for her role as an elderly stowaway and was nominated for nine more Academy Awards, including Best Picture, Best Cinematography, and Best Costume Design for renowned Hollywood designer Edith Head.

Airport originated the 1970s disaster film genre, establishing the convention of "microcosmic melodrama combined with catastrophe-oriented adventure".[3]
Cite error: <ref> tags exist, but no <references/> tag was found