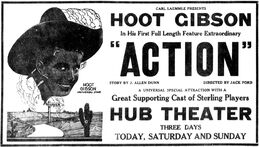 Action is a 1921 American Western film directed by John Ford and featuring Hoot Gibson. It was based on Peter B. Kyne's popular novel The Three Godfathers. The film is considered to be lost. According to contemporaneous newspaper reports, Action was based on J. Allan Dunn's novel, The Mascotte of the Three Star; Mascotte appeared as the lead novel in the pulp magazine Short Stories, February 1921.
Ad blocker interference detected!
Wikia is a free-to-use site that makes money from advertising. We have a modified experience for viewers using ad blockers

Wikia is not accessible if you've made further modifications. Remove the custom ad blocker rule(s) and the page will load as expected.