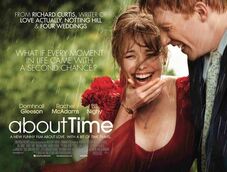 About Time is a 2013 romantic comedy-drama film about a young man with the special ability to time travel who tries to change his past in order to improve his future. The film was written and directed by Richard Curtis, and stars Domhnall Gleeson, Rachel McAdams and Bill Nighy. It was released in the United Kingdom on 4 September 2013 and in the United States on 1 November 2013.
Ad blocker interference detected!
Wikia is a free-to-use site that makes money from advertising. We have a modified experience for viewers using ad blockers

Wikia is not accessible if you've made further modifications. Remove the custom ad blocker rule(s) and the page will load as expected.