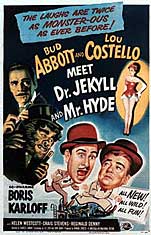 Abbott and Costello Meet Dr. Jekyll and Mr. Hyde is a 1953 American comedy horror film directed by Charles Lamont and stars the comedy team of Abbott and Costello, and co-stars Boris Karloff.
Loosely based on the novel The Strange Case of Dr. Jekyll and Mr. Hyde by Robert Louis Stevenson, the film follows the story of two American detectives visiting Edwardian London who become involved with the hunt for Dr. Jekyll, who is responsible for a series of murders.
Ad blocker interference detected!
Wikia is a free-to-use site that makes money from advertising. We have a modified experience for viewers using ad blockers

Wikia is not accessible if you've made further modifications. Remove the custom ad blocker rule(s) and the page will load as expected.