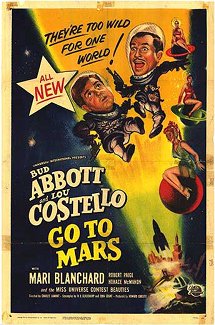 Abbott and Costello Go To Mars is a 1953 American science fiction comedy film directed by Charles Lamont and starring the comedy team of Abbott and Costello. The film follows the misadventures of Lester and Orville who accidentally find themselves on a rocketship bound for Mars, which accidentally lands at the New Orleans Mardi Gras. The pair are forced by bank robbers Mugsy and Harry to fly to Venus where they encounter a civilization consisting entirely of women. Despite the title, no one in this film actually goes to Mars.
Ad blocker interference detected!
Wikia is a free-to-use site that makes money from advertising. We have a modified experience for viewers using ad blockers

Wikia is not accessible if you've made further modifications. Remove the custom ad blocker rule(s) and the page will load as expected.