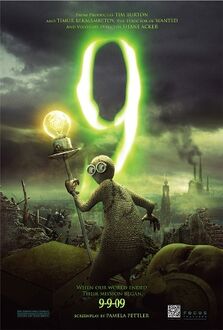 9 is a 2009 American computer-animated satirical post-apocalyptic science fiction film directed by Shane Acker and produced by Tim Burton and Timur Bekmambetov. The film stars the voices of Elijah Wood, John C. Reilly, Jennifer Connelly, Christopher Plummer, Crispin Glover, and Martin Landau.[1][2] It is based on Acker's Academy Award-nominated 2005 short film 9.[3]

The screenplay for the film was written by Pamela Pettler, with casting by Mindy Marin, production design by Robert St. Pierre and Fred Warter, and art direction by Christophe Vacher.
Cite error: <ref> tags exist, but no <references/> tag was found
Ad blocker interference detected!
Wikia is a free-to-use site that makes money from advertising. We have a modified experience for viewers using ad blockers

Wikia is not accessible if you've made further modifications. Remove the custom ad blocker rule(s) and the page will load as expected.