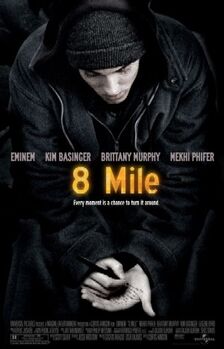 8 Mile is a 2002 American hip-hop biopic  film written by Scott Silver, directed by Curtis Hanson, and starring  Eminem, Mekhi Phifer, Brittany Murphy, Michael Shannon, and Kim Basinger.

The film is an account of a young white rapper named Jimmy "B-Rabbit" Smith Jr. (Eminem) living in inner city Detroit, Michigan set in 1995, and his attempt to launch a rap career in a genre dominated by African Americans. The film's title is derived from 8 Mile Road, the dividing line between Detroit and its upper class suburbs.

Filmed mostly on location in Detroit and its surrounding areas, the film was a critical and financial success. Eminem won the Academy Award for Best Original Song for "Lose Yourself," the song which was iconic to this film. A decade after its release, Vibe magazine called the film a "hip-hop movie masterpiece."[1]  
Cite error: <ref> tags exist, but no <references/> tag was found